Willkommen zum der Bitburg Flughafen Wiedervereinigung Website.
(Welcome to the Bitburg Air Base Reunion Website.)

Suchen des USAF im Deutschland Haupt Seite???
Looking for the USAF in Germany Home page???
CLICK HERE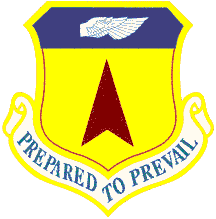 NEW Bitburg AB / 36th Wing Duty Roster!!!


UPDATE [17 FEB 07] on "Eagles over the Eifel" Purchase!

Under contract with the United States, the French Army began construction of what would become Bitburg Air Base in Western Germany's Eifel Mountains in the Rheinland-Pfalz in early 1951. Bitburg Air Base was officially established as a United States Air Forces Europe (USAFE) installation on September 1, 1952, after the arrival of the 53rd Fighter-Bomber Squadron, 36th Fighter-Bomber Wing (FBW), in July from Furstenfeldbruck AB, Germany. The remainder of the wing (the 22nd and 23rd Fighter-Bomber Squadrons) arrived with their F-84E Thunderjets in November 1952. The 36th was established as 36th Fighter Wing on 17 Jun 1948, and activated on 2 Jul 1948. Later the Wing was redesignated as the 36th Fighter-Bomber Wing on 20 Jan 1950; the 36th Fighter-Day Wing on 9 Aug 1954; the 36th Tactical Fighter Wing on 8 Jul 1958; and finally as the 36th Fighter Wing on 1 Oct 1991. The wing was deactivated on 1 Oct 1994.

FIGHTER SQUADRONS OF THE 36FW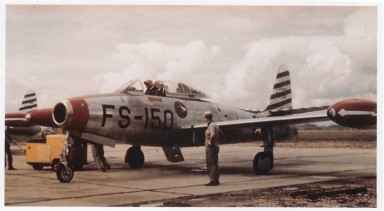 During this time, the 36th became the longest continuously based USAF unit in Germany having been stationed at Bitburg AB for 42 years without interruption, a total of 46 years in Germany. The next closest continuously based wing in Germany is the 52nd FW at Spangdahlem at 33 years and the former 50th FW at Hahn at 32 years. The 86th Wing has been in Germany since 1948, but has been deactivated, reactivated, and transferred between stations during it's 57 years in USAFE.

While in Germany the 36th was instrumental in the formation of the Skyblazers aerial demonstration team in May 1949 and controlled it until Aug 1952, and again from Oct 1956 to Jan 1962. In addition to its primary installation (Bitburg AB, Germany), the 36th Wing controlled Oberpfaffenhofen AB, Germany, Dec 1949–Feb 1950, and Spangdahlem AB, Germany, Sep 1969–Dec 1971. The 36th also assumed logistical responsibility for Ground Launched Cruise Missile base closure at Florennes, Belgium in 1989.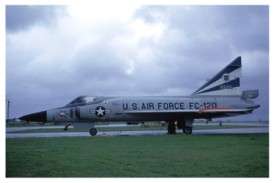 The 36th employed a variety of aircraft including: F-51D 1944-1948; F-80 1948-1950; F-84E 1950-1953; F-86F 1953-1956; F-100D/F 1956-1960; F-102D (525th FIS as an air base tenant) 1959- 1968; F-105D/F 1961-1966; F4D/E 1966-1977; and F15 1977-1994. The 36th TFW is honored as the first USAFE wing to introduce the first allied jet fighters in Europe (the F-80 Shooting Star) and the first to convert to the F-84 (1950), F-86 (1953), F-100 (1956), F-102 (1959), F-105 (1961), F4 (1966), and F15 (1977) aircraft in the European theater.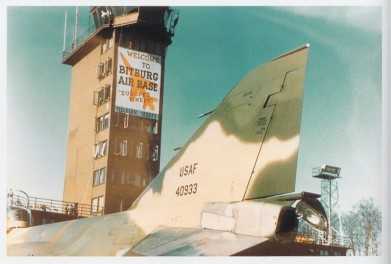 Also stationed at Bitburg AB were Pilotless Bomber units; These were later designated as Tactical Missile units. These units included the 585th Tactical Missile Group, the 71st Tactical Missile Squadron, and the 587th Missile Maintenance Squadron deploying the Matador and Mace missile systems.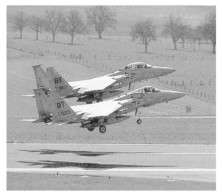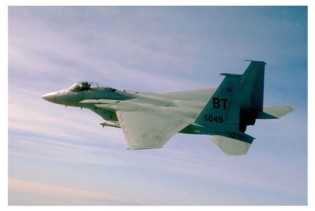 The 36th Wing was reactivated as the 36th Air Base Wing at Andersen Air Force Base, Guam, on Sept. 30, 1994. Under this most recent designation, the wing lived up to its mission several times. In September 1996, the wing provided around-the-clock forward-deployment support to Air Combat Command B-52s during their operation Desert Strike missions over Iraq, and began hosting more than 6,600 Kurdish evacuees during the 8-month humanitarian assistance mission, Joint Task Force Pacific Haven.
(Sources)
What's new with the 36th Wing...
36th OG Reactivates to Meet Pacific Theater Mission!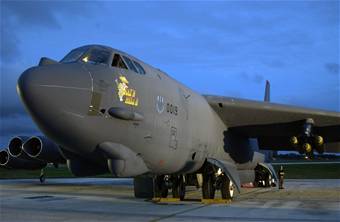 36th Wing Airman Recognized for Work with Iraqi Army
36th Air Expeditionary Wing redesignated 36th Wing
Know Your Andersen History: 36th Wing redesignation
These links courtesy of Dr. John Treiber, 36AEW Historian & The Pacific Edge


Who Remembers This Film???

Want a copy of this film? Just click on the image for more info!
Bill Hewitt provided us with a link to a new vendor. Check it out.

Who has seen this painting?

Interested in getting a copy of this print? Click on the image!
In keeping with DoD & USAF policy of maintaining the lineage of units with substantial history,
the 36th Wing was re-designated & activated as the 36th Air Base Wing at Andersen AFB in Guam.




EIFEL REUNION 2005!!!
Photos will be posted soon!!!



Celebrating 52 Years of German/American Friendship and Cooperation.
Here are some Bitburg AB related links...


Flugplatz Bitburg
Site is in German,
but lots of good stuff here!
Here are some Bitburg AB Memories...

| | | |
| --- | --- | --- |
| | | |
| | | |
Not really a Bitburg or 36th Wing Link,
but a cool link no matter how ya look at it...
Tyson, the Skateboarding Bulldog
Courtesy of our friends at 525 TFS Bulldogs, Inc.
Looking for more Bitburg AB related weblinks???
Looking for buddies from Comms? AGE? WCS?
Want to find a lost Bulldog or NATO Tiger???
Head over to the Links Hub.
Where all mystical internet questions are answered.

OR, cruise over to the Bitburg AB Yahoo Group,
OR, you can stop over at the Bush Board.


If they are out there, we can find them!
All of our pages are always under construction.
If you know of a good USAF-related website, let us know!
Email us with any new websites!


Return to the USAF Germany Home Page
Information Sources
USAF History of the 36th Wing
36th Air Base Wing Fact Sheet, Andersen AFB
Cold War Thuds
American Military Aircraft Encyclopedia, Edited by Joe Baugher
This website is not affiliated with nor sanctioned by the United States Air Force or any government agency.
All information and opinions expressed here are the personal views of those who post them.
NOTE: Any posted material that is deemed by the webmaster to be of an offensive nature will be immediately removed.
The webmaster of bitteeinbit.org is not responsible for the content of the sites linked above.
Search Engine Optimization and Free Submission